Select Media Coverage from South Sudan Research Program:
April 2018
These wildlife wonders are surviving in a war zone –   OZY.com
December 2015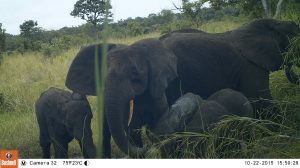 Discovery of forest elephants and other previously unrecorded mammals in the "Forgotten Forests" of South Sudan. Covered by multiple international media outlets, including The Associated Press, Smithsonian Magazine, Huffington Post.
August 2014
As the Ebola crisis rages, West African villagers are warned away from fruit bats – Public Radio International's "The World" with online commentary
Bats may provide answers on Ebola – Philadelphia Inquirer 
May 2014
Danger Lab! The Bats and the Bees –   Mental Floss Magazine
April, 2013
New Bat Genus for "Badger Bat" from South Sudan. Covered by multiple international media outlets, including The New York Times's Science Tuesday, The Washington Post, Huffington Post, BBC, CBS, Scientific American, The Scientist; Named #41 of the top 100 stories of 2013 by Discover Magazine.
January 2012
Bat Luck! – The Scientist
May 2012
How I Survived Malaria, Bats, and Broken Bones in South Sudan – Discover Magazine
August 2011
Seeking Biodiversity in the Newest Country in the World– National Geographic Weekend –  Radio interview
Select Media Coverage from White-nose Syndrome Research Program:
Documentaries:
Killer in the Caves. 2013. Smithsonian Channel.
"In a race against time, Dr. DeeAnn Reeder is searching for a mysterious killer. A disease known as white-nose syndrome is wiping out bat populations by the millions – and the cause and cure are still unknown". – Winner of the 2013 AAAS Kavli Science Journalism Award for In Depth Science Reporting.
The race to save Pennsylvania's bats. 2012. WQED-TV
– Winner of an Emmy Award for Health/Environment/Science Program.
Print/TV/Online (see also press coverage for my collaborations with Dr. Ken Field):
March 2018
Bats may be poised for a comeback from white-nose syndrome. – Sierra. The National Magazine of the Sierra Club
January 2015
No time for bats to rest easy – The New York Times
October 2012
Scientists search for ways to stop bat-killing fungus – CBS Evening News
October 2011
Deadly Bat Fungus Nailed Down – The Scientist
June 2011
What is killing the bats? – Smithsonian Magazine
October 2010
Bat Crash – National Geographic Magazine